As the tradition long established since 2016 dictates, braving the nature, lab-bound MAFIA members observed our mandatory summer hiking day today at Rock Creek Park in Washington DC.
It was a nice cool day to hike. It also helped tremendously that we had picked a route that was 95% covered in shades.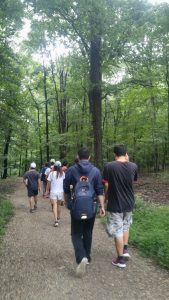 We hiked along the Rock Creek for almost 2 miles,  almost 3 times lengthier than the route we took last summer in West Virginia *. At this rate, we might be able to call ourselves outdoorsy by 2019.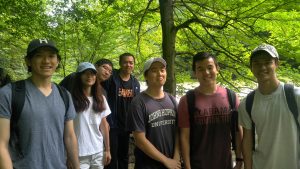 The creek (in the background of the picture above) was at its high water mark because of the heavy rain in the previous night.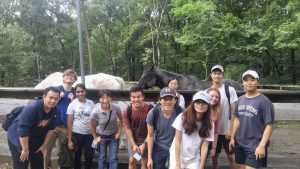 We made some equine friends along the way. They were very friendly.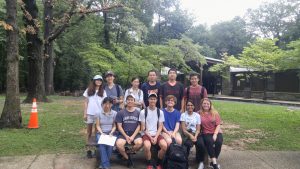 We had a very rewarding hour* hiking in the nature. Everybody was hungry by 10 am after the excursion. We posed for the happy group picture for one last time and went on our merry way to wait for lunch-serving restaurants in DC to open at 11 am.  We devoured our lunch (data not shown).
It was a blast! Kudos to Nick for organizing the event!
* numbers were processed by the ceiling function for the purpose to appear impressive.